Introduction
Let's be honest… If you are receiving money through PayPal in foreign currencies, PayPal is charging you a huge amount with their poor exchange rates and high fees. So you have searched how to bypass their exchange rates and get your more of your money home. With the TransferWise Borderless account you have access to unique banking account numbers for USD, EUR, GBP etc. For example, to withdraw USD from PayPal to TransferWise, you connect your USD bank account details to your PayPal account. Then use TransferWise to send more of your money home. 
A warning! Since first publishing this guide in 2018, PayPal has become aware of this money saving trick and is trying their utmost to stop you from doing this! They make it as difficult as possible for you to do this because PayPal make most of their profit by locking you in to their system and charging you huge fees. When you link a virtual foreign exchange optimized bank account such as TransferWise Borderless, WorldFirst World and the OFX Global Currency accounts, PayPal disconnects it after a period of time. Another example. November 2020, Australian PayPal customers have been charged an additional 3% for withdrawing USD to a USA bank account if you are not a US registered PayPal customer. 
In the old iCompareFX we had a comment system. The comments showed successes and knock backs by PayPal. The most useful comments have been copied to the new website and are at the end of this guide. The most important take away is that, yes, this guide works. Depending on your home country, PayPal can make it easier or harder for you. But all that have persisted have been successful. So expect this to not be straight forward. Be prepared to call PayPal and push for the linked bank account to stick.
The WorldFirst World account is similar to TransferWise Borderless.. except cheaper for larger sums of money transfers and they have more local bank account currencies available. WorldFirst can provide you with a bank certificate, to prove it's authenticity. PayPal cannot knock you back. They will try, but you can push.
Below, you will find a guide on how to send money from PayPal to the TransferWise Borderless Account. You will also learn if it is possible to send money from TransferWise to PayPal. This guide will also work for the WorldFirst World and OFX Global Currency account. The principles are the same
 
TransferWise preparation
Create a personal or business account with TransferWise.
Once your TransferWise account is created, activate your Borderless Account. (Learn more about Borderless Account features)
Activate a Borderless currency account. The example that follows uses a USD account (you may also use GBP, EUR, or AUD).
Make note of your USD Borderless Account details.
You are now ready to start configuring your PayPal account to transfer from PayPal to TransferWise Borderless.
 
PayPal Steps
1. Open PayPal.com.

2. Select Wallet from the PayPal menu area.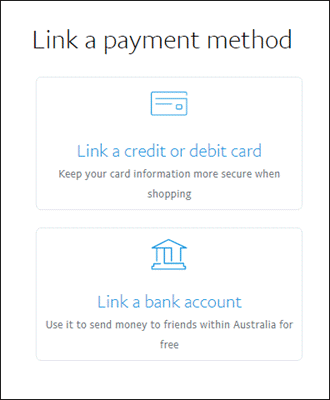 3. Click 'Link a Card or Bank Account' and select option to add a Bank Account.
4. Select US Bank Account.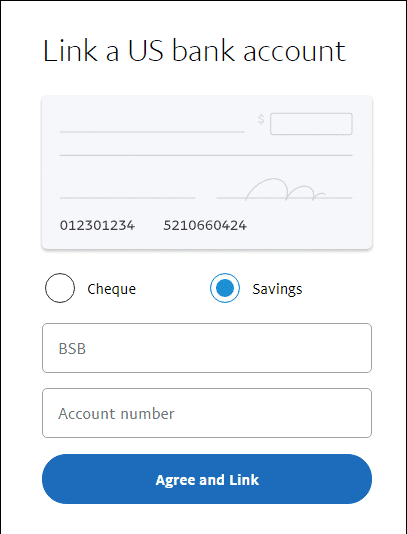 5. Enter ACH Routing Number from Transferwise Borderless into PayPal's 'BSB' Field.
6. Enter Account Number from Transferwise Borderless into PayPal's 'Account' Field.
You may need to check your notes from the TransferWise preparation steps above. Find where you took down you personal USD banking details from within TransferWise USD Borderless Account.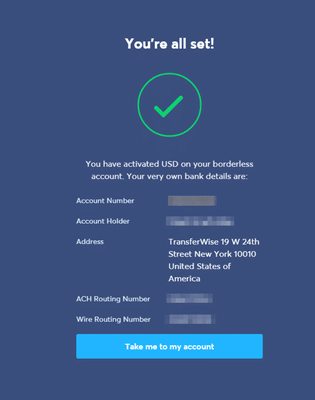 PayPal Account is now ready to withdraw funds to Borderless!
To transfer, click 'Withdraw Money' from your home page in PayPal.
Enter amount to withdraw from your USD PayPal balance to your USD TransferWise Borderless multi-currency account.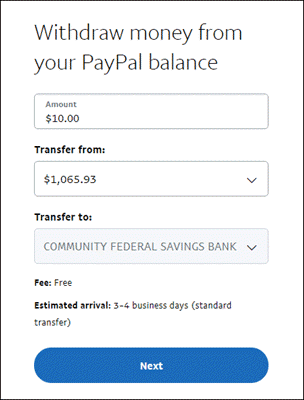 Review transfer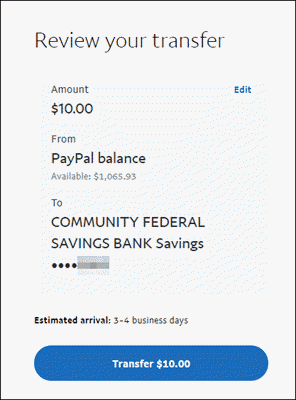 A warning screen always appears stating Paypal will review the transfer for fraud.
You're all done. Funds will typically clear in your TransferWise USD Borderless Account within one to two business days.
 
Send money from TransferWise to PayPal
It is now possible to transfer money from TransferWise to PayPal. Currently the TransferWise Borderless Accounts support direct debits on AUD, GBP, EUR and USD. 

The image above shows the two PayPal linked bank account deposits to activate an AUD TransferWise Borderless Account in an AUD PayPal Account.
You can now confirm your linked bank account in PayPal. Then, you should be able to 'pull' funds from your Borderless Account into you PayPal account of the same currency.
 
TransferWise Borderless account alternatives
Are you in the UK or Europe?
WorldFirst have a competitor service similar to the TransferWise Borderless Account called the WorldFirst World Account. There is no concrete information about transferring from PayPal to the World Account yet as it is only available in UK, Europe and Australia.
WorldFirst gives you the real exchange rate when transferring with a transparent fee structure on top. If you transfer more that £500k / AUD$750k a year, then your fee is a super low 0.35% on top of the real exchange rate. And lower still if you transfer over £5 million currency equivalent. 
The community would love to hear about it if this is possible. Fancy becoming a tester?
Sign up for the WorldFirst Multi Currency Account and share your experience.
 
Useful comments on this guide
Neko commented on 5th September 2020

I can confirm that since TW enabled Direct Debit, I can link my PP account to my TW account without any issues. To be precise, I mean I can link my PP account to the TW bank account details which correspond to the 'home' currency of my PP account. The Direct Debit feature fulfils the requirement that PP can debit back the micropayments used in the link verification.

In my case, my base currency is GBP, but I would expect the same thing would work with USD as long as Direct Debit is enabled on your TW USD bank details.

Note — I believe that at the moment you must be a US resident to have Direct Debit on your TW USD bank details. (By this I mean the registered address on your TW account must be a verified US address.)
Louis commented on 6th July 2020

I'm canadian and it is pretty simple to add TW to PP

On the "Money" page you click "link a new bank account"

On the "Choose your bank" page at the bottom you click "Search for other banks"

Search for Transferwise and they will give you the option to "link you bank detail"

At the bottom of the "Link your bank" page you will see the option to link a US bank

and voilà
BaudToTheBone commented on 27th May 2020

As a Canadian, I followed this guide and it would not work. Not because the guide was incorrect, but because PayPal was blocking the addition of any US bank to my Canadian PayPal account. I had to call PayPal to get them to enable the ability to add a US bank.

Obviously PayPal disables this feature for everyone as it can potentially cost them money. So they make it as painful as possible for you to enable it.

I also 'liked' how PayPal gave the error 'there is a temporary problem adding this account, try again later' when of course it was disabled the whole time.

So if you cannot get this guide to work (ie: you cannot add a USD bank account to your PayPal), call PayPal and tell them to enable it. They will hum and haw that it can't be done, it's against the law in your country, etc etc. All lies. They prevent it from the get-go so that people give up and continue to pay their usury fees.

 

Kristian replied to BaudToTheBone on 27th May 2020

Hi! I am in the EXACT same situation, the Customer Support just keeps repeating that it is not possible and if there was a way they would help me.

I tried calling but I keep getting transferred to Automated Lines. The only people I can talk to is Live Chat support.

How did you get through to a live agent over the phone? What did you say to get them to agree to connect your account?

Thank you so much!

 

BaudToTheBone replied to Kristian on 2nd June 2020

Hi Kristian,

I believe I opened up a ticket on PayPal and got the run around a few times. First an automated email reply with the most common ways to fix a problem. Then I replied asking for a call back. Live chat connects you to a call center somewhere around the world; you don't want that option. They can only fix the simplest of issues.

Also, it might have been after I logged into PayPal and clicked on 'call us' instead of the 'email us' system. It took persistence. Trust me, PayPal doesn't make it easy. They are about as evil as a company can be (up there with google, facebook, uber, airbnb etc).

I'm saving $600/month by not using PayPal's usury currency conversion, so it definitely was worth the perseverance, hoops, lies they told and eventual proper outcome.

BTTB
Joelene commented on 11th May 2020

Hey everyone. I had recently struggled to get paypal to pay to our transferwise bank account, and i needed to update you that i kept trying and now it seems to be working!

Maybe its just because paypal staff are all on leave due to covid and so maybe we will be kicked out again soon, but i can confirm that we are currently withdrawing funds from paypal in USD directly to our transferwise borderless account in USD.

Let me know if anyone has same success, fantastic if this is not do-able for the long term!
Jano commented on 6th January 2020

It looks like the USD bank account info you get from Payoneer in fact isn't kicked out by PayPal, so opposed to the Transferwise Borderless account and the World First account, it can be used for PayPal payouts in USD more than once.

This is by far the least convenient of the three, though, since both Transferwise and World First only charge a 0.5 % conversion fee while Payoneer charges a 1 % fee on every USD amount you receive + 0.5 % conversion if you send it to a EUR account, but it's still a bit less than the 2+ percent PayPal will charge.